The Seashore of Our Posterity is rewarding you with an eco-adventure on Palagruža!
1. Get a blue bag from our sponsors or use any other bag

2. Collect the debris the sea washed up on the shore

3. Document your accomplishment of cleaning the coast and publish it on this page or share through Instagram and/or Facebook with a tag #BlueBagEco. Encourage your friends to do the same.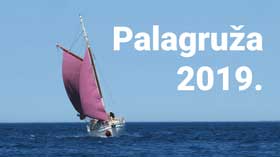 Every month we will pick the most original submission. The lucky volunteers will be rewarded with an eco adventure from 18th to 25th October 2019. We will sail to Palagruža, clean the beach, and spend 7 days visiting Lastovo, Hvar, Vis... Where the wind takes us.
The contest is open from May 1st to September 30th.
You can still collect debris when September ends. Whenever you do it, in the sound of the waves you can hear the sea, saying THANK YOU.